News
Check out our live Facebook feed for up to the minute information
Announcements
July 2017 – We are pleased to announce that AES have been accepted for membership to the Association of Australasian Acoustical Consultants (AAAC).
September 2016 – A big date for AES, the company turned 10 years young and had its 10 year function at the newly opened Great Hall at the Arts Centre of Christchurch.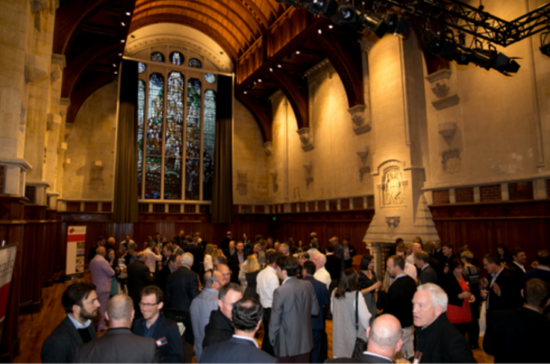 February 2015 – Consistent with our expanding national presence, we are pleased to advise that Jeremy Trevathan has recently been added to the Auckland Council's approved register of Producer Statement Authors. The register provides a list of professionals who have adequately demonstrated their suitability and competence with regard to the design, supervision and certification of works under the New Zealand Building Code.
December 2014 – Once again this year the entire AES office participated in the KidsCan Santa Run, held in Hagley Park. The event raises money and awareness for the KidsCan charity, and sees participants dressed in festive apparel navigate a 3 km course through the park. While the event is all about having fun and raising money, we have been requested to officially record that Jeremy came 3rd and William 5th out of several hundred participants.
November 2014 – The Acoustical Society of New Zealand biennial conference was held in Christchurch. Titled Acoustics in a Rebuilding City and hosted at the Novotel Christchurch Cathedral Square Hotel, the conference was attended by over 70 delegates. Hailed as a success, Tracy Hilliker was a key member of the conference organising committee, and assisted during the event with the programme, chairing technical sessions, the city tour and conference dinner.
November 2014 – Melbourne, Australia hosted the 43rd international acoustic conference, Internoise. George van Hout attended this three day conference which explored various topics of acoustics including how low frequency noise affected people who live close to wind farms, the acoustic and teachability issues regarding Modern Learning Environment (MLE) school classrooms, and new road surfaces to minimise noise associated with State Highway road noise.
September 2014 – The Ministry of Education and University of Canterbury has released its Notification of Decision regarding their Professional Services Supplier Panel. AES are proud to have been confirmed as the only specialist acoustic engineering consultancy on the panel.
May 2014 – Tracy Hilliker has been appointed to the Joint Australian/NZ Standard Committee EV-010 Acoustics Community Noise as the Acoustical Society of New Zealand representative. The committee is concerned with standardisation in the field of community noise emitted from industrial, commercial, private and government sources, both fixed and mobile. This includes planning, public and private infrastructure (e.g. roads, rail, ports, etc) and measurement methods and control of sources related to these (i.e. trains, marine vessels and structures or platforms, automobiles and machines).